Built on energy-efficient blockchain technology
Xago's unique payment platform and business solutions are developed utilising Ripple's XRP Ledger, an energy-efficient blockchain built for speed, efficiency and scalability. The Xago platform currently accepts USD, GBP, EUR, ZAR, CHF and converts the currencies to the relevant stable coin XUS, XGB, XEU, XZR, XCHF, of which all are 100% backed by FIAT held at reputable banks.
Pathways designed and developed by Xago, orchestrate the transfer of value to trusted destinations where they can be converted into the required currency (FIAT) and withdrawn.
All with absolute finality of delivery, within hours if not minutes, at a fraction of the cost of current providers, and all with CERTAINTY.
The transfer of funds in minutes rather than days
With confirmation of finality of the transfer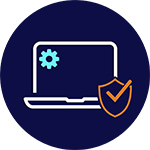 Fully developed and ready including APIs
Suite of business solutions
Xpedite
Move funds internationally to and from Bank Accounts, Crypto Addresses, Mobile Money, and Retail. White-label IMT solution available, especially for Banks and Retailers. Balance of Payments Reports can be included for South African Banks.  API suite is available upon request.
Xpand
Xpand enables fast money aggregation of Payment Collections or Distributions through crypto rails. Executed through linking to Sub-Accounts to a Master Client Account to create payment instructions.
Xceed
White-label solution offering Arbitrage Trading with Personalised Automated Bot (including a variety of trading strategies) for clients of Banks, and FSPs.
Xchange for Business Owners
Exchange, trade, make payments, receive payments with ZAR, XRP, USD, USDC, GBP and EUR through an API or the user interface.
Xramp
Xago offers FIAT (cash) on- and off-ramps to global Crypto Exchanges to enable their clients to trade ZAR. Xago's Digital ZAR is pegged 1:1 with the South African Rand and our unique Xramps are activated instantly via efficient, highly secure trust lines.
Leaders in fair regulation
Xago offers rapid money transfer and payment solutions to suit business needs, at a fraction of the cost of traditional payment options. Plus the security and compliance required in a world of fast change and even faster money, especially in Africa.